My GGG-grandfather, Thomas THOMPSON (1797-1872), of Christian [now Todd] Co., KY, Boone Co., MO, Monroe Co., MO, and Santa Clara Co., CA, has been a genealogical brick wall for his descendants for decades. The only recent advance has been to identify his father as Peter THOMPSON (c1765-c1840), about whom little is known. It is my hope that Y-DNA testing will at least tell us in which THOMPSON family we belong.

After years of searching, in May of 2008 we found a patrilineal descendant of Thomas who consented to being Y-DNA tested, but he had no significant match. Now, in February of 2012, we have results returned for a second descendant of Thomas, and they are a tight match, supporting that they do, indeed, have a near common ancestor on their patrilineal line. Both men are descended from Thomas's son, John Alexander Campbell THOMPSON. We still seek another patrilineal descendant of Thomas for testing, one who descends through some son other than John A.C.

Results from the first descendant show he is Haplogroup I1f1 (= I-L338), which is consistent with an old newspaper clipping stating that Peter THOMPSON was a Dane. Haplogroup I1 is sometimes called the "Viking" haplogroup because of its high concentration in southern Scandinavia and northwestern Europe (see map below right).

We now have four individuals (these two men, plus myself and another first cousin) who have taken the FamilyFinder test, and results support that we are 3rd or 4th cousins (see this page for discussion). I urge all descendants of Thomas THOMPSON (male or female) to take this test.
Y-DNA Haplogroup I1 SNPs and Subclades

Mutations
Haplogroup
ISOGG
FTDNA
M170=PF3715 P19_1-5 L41=PF3787 M258 P212 P38 PS76 U179
I
I
____
M253 L64 L75 L80 L81 L118 L121=S62 L123 L124=S64 L125=S65 L157.1 L186 L187 L840
M307.2=P203.2 M450=S109 P30 P40 S63 S66 S107 S108 S110 S111
I1
I1
____
DF29=S438
I1-a
____
Z2336=CTS6364
I1-a1
____
M227
I1-a1a
I1b
____
M72
I1-a1a1
I1b1
L22=S142
I1-a1b
I1d
____
P109
I1-a1b1
I1d1
L205
I1-a1b2
I1d2
L287
I1-a1b3
I1d3
____
L258=S335
I1-a1b3-a
I1d3a
____
L296
I1-a1b3-a1
L300=S241
I1-a1b4
I1d4
L813=Z719
I1-a1b5
L211 [private]
-
I1e
Z58=S244
I1-a2
____
Z59=S246
I1-a2a
____
Z60=S337 Z61=S439 Z62
I1-a2a1
____
Z140 Z141
I1-a2a1-a
____
Z2535
I1-a2a1-a1
____
L338
I1-a2a1-a1a
Z2538=CTS10937
I1-a2a1-a1b
F2642
I1-a2a1-a2
____
L592 [private: STRAUB family]
Z73
I1-a2a1-b
L573
I1-a2a1-c
L1248
I1-a2a1-d
____
L803
I1-a2a1-d1
Z382
I1-a2a2
S296=Z138 Z139
I1-a2b
____
Z2541
I1-a2b1
Z63=S243
I1-a3
____
L1237
I1-a3a
Z131
I1-b
P215
I2
I2
The FTDNA and ISOGG Y-DNA haplotrees once differed substantially, but are gradually reaching total agreement.
Distribution of Y-DNA Haplogroup I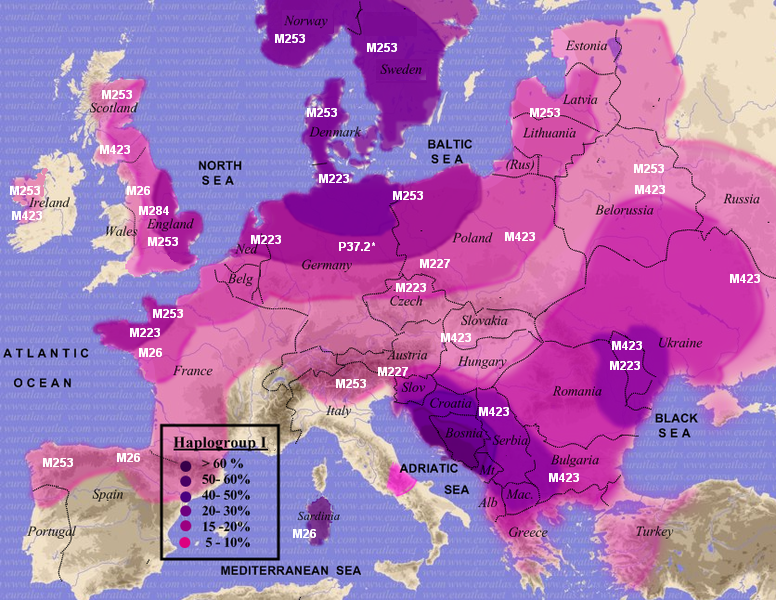 Image released to the public domain by Hxseek at Wikipedia.

Labels in white are the SNP mutations; percentages are the frequency of Haplogroup I in the population. Haplogroup I1 is concentrated in Scandinavia and northwestern Europe; Haplogroup I2 is concentrated in the Balkans and southeastern Europe. SNPs that appear on the map, but not in the chart at the left, are Haplogroup I2. Hopefully, this map will be updated to include L338 and other recently discovered SNPs.